ПОРІВНЯЛЬНИЙ ЦЕФАЛОМЕТРИЧНИЙ АНАЛІЗ РОЗМІРІВ ВЕРХНІХ ДИХАЛЬНИХ ШЛЯХІВ З ВИКОРИСТАННЯМ ЗДВОЄНИХ БЛОКІВ І МОДИФІКОВАНИХ ФУНКЦІОНАЛЬНИХ ПРИСТОСУВАНЬ У ПАЦІЄНТІВ З АНОМАЛІЯМИ ПРИКУСУ II КЛАСУ ЗІ ЗВУЖЕННЯМ ВЕРХНІХ ДИХАЛЬНИХ ШЛЯХІВ
Ключові слова:
дистальний прикус, твін-блок, модифікований функціональний апарат, ТРГ
Анотація
Вступ. Дистальний прикус є однією з найчастіших проблем у практиці ортодонтії. У випадках дистального прикусу та ретрогнатичного положення нижньої щелепи, функціональні пристрої часто використовуються для стимуляції росту нижньої щелепи під час ортодонтичного лікування. Один з найпопулярніших функціональних пристроїв для лікування дистального прикусу – це Твін-блок. Однак, ефект його застосування на розміри верхніх дихальних шляхів залишається невизначеним. Мета. Порівняння результатів ефективності впливу запропонованого модифікованого функціонального апарату та Твін-блоку на зміни показників ТРГ у динаміці ортодонтичного лікування пацієнтів із селективними формами дистального прикусу, ретрогнатичною нижньою щелепою та звуженням верхніх дихальних шляхів. Методи дослідження. Нами проведено аналіз цефалометричних рентгенограм у 104 дітей із скелетними формами дистального прикусу та звуженням верхніх дихальних шляхів у періоді змінного прикусу, на піку зростання (CS3 і CS4 – пубертальні стадії) віком від 7 до 13 років на кафедрі ортодонтії Національного університету охорони здоров'я України імені П. Л. Шупика. Результати. Запропонований модифікований функціональний пристрій (МФП) дозволяє усунути морфологічні порушення, відновити функцію жувальної системи, нормалізувати положення під'язикової кістки, нахил м'якого піднебіння, адаптацію шийного хребця і корекцію нахилу голови, а також розширити верхні дихальні шляхи (ротоглотки, гортаноглотки) та забезпечити естетичні результати лікування у коротші терміни порівняно з застосуванням твінблоку. Висновки. Застосування функціональної апаратури у дітей із скелетними формами дистального прикусу є обов'язковою складовою ортодонтичного втручання, оскільки усуває патологію прикусу та відновлює функціонування зубо-щелепової системи.
Посилання
Proffit, W.R., & Moray, L.J. (1998). Prevalence of malocclusion and orthodontic treatment need in the United States. Int J Adult Orthodon Orthognath Surg.,13(2), 97-106.
Henry, R.G. (1957). A classification of Class II, division 1 malocclusion. Angle Orthod., 27(2), 83-92.
Moyers, R.E., Riolo, M.L., Guire, K.E., Wainright, R.L., & Bookstein, F.L. (1980). Differential diagnosis of Class II malocclusions: Part 1, facial types associated with Class II malocclusions. Am J Orthod.,78(5), 477-494.
Lin, J.X. (1995). Contemporary Orthodontics. Beijing: Chinese Medical Science & Technology Press.
Indriksone, I., & Jakobsone, G. (2014). The upper airway dimensions in different sagittal craniofacial patterns: A systematic review. Stomatologija, 16(4), 109-117.
Abdelkarim, A. (2012). A cone beam CT evaluation of oropharyngeal airway space and its relationship to mandibular position and dentocraniofacial morphology. J World Fed Orthod., 1(2), 55-59.
El, H., & Palomo, J.M. (2011). Airway volume for different dentofacial skeletal patterns. Am J Orthod Dentofacial Orthop., 139(4), 511-521.
Gonçales, E.S., Rocha, J.F., Gonçales, A.G., Yaedu, R.Y., & Sant'Ana, E. (2014). Computerized cephalometric study of the pharyngeal airway space in patients submitted to orthognathic surgery. J Maxillofac Oral Surg., 13(3), 253-258.
Jose, N.P., Shetty, S., Mogra, S., Shetty, V.S., Rangarajan, S., & Mary, L. (2014). Evaluation of hyoid bone position and its correlation with pharyngeal airway space in different types of skeletal malocclusion. Contemp Clin Dent., 5(2), 187-189.
Drohomyretska MC, &Mohammed Sadek AS. (2022). Assessment of anthropometric and cephalographic indicators in patients with distal bite with normal and impaired external breathing function. J Dentistry, 120(3), 83-92.
Drohomyretska, M.C., & Mohammed, Sadek A.S. (2022). Assessment of the position of the hyoid bone in patients with a distal bite with normal and impaired airway function. Innovations in Dentistry, (1), 25-31.
Ozbek, M.M., Miyamoto, K., Lowe, A.A., & Fleetham, J.A. (1998). Natural head posture, upper airway morphology and obstructive sleep apnoea severity in adults. Eur J Orthod., 20(2), 133-143.
Katyal, V., Pamula, Y., Martin, A.J., & et al. (2013). Craniofacial and upper airway morphology in Paediatric sleep-disordered breathing and changes in quality of life with rapid maxillary expansion. Am J Orthod Dentofacial Orthop., 143(1), 20–30. PMID: 23273357.
Graber, T.M., Rakosi, T., & Petrovic, A. (1997). Dentofacial Orthopedics with Functional Appliances. St Louis, Mo: Mosby. 346–352.
Hanggi, M.P., Teuscher, U.M., Roos, M., & Peltomaki, T.A. (2008). Long-term changes in pharyngeal airway dimensions following activator-headgear and fixed appliance treatment. Eur J Orthod,. 30, 598-605.
Ghodke, S., Utreja, A.K., Singh, S.P., & Jena, A.K. (2014). Effects of twin-block appliance on the anatomy of pharyngeal airway passage (PAP) in class II malocclusion subjects. Prog Orthod., 15, 68. doi: 10.1186/s40510-014-0068-3.
Xiang, M., Hu, B., Liu, Y., Sun, J., & Song, J. (2017). Changes in airway dimensions following functional appliances in growing patients with skeletal class II malocclusion: A systematic review and meta-analysis. Int J Pediatr Otorhinolaryngol, 97, 170-80.
Clark, W.J. (1982). The twin-block traction technique. Eur J Orthod., 4, 129-38.
Li, L., Liu, H., Cheng, H., Han, Y., Wang, C., Chen, Y., & et al. (2014). CBCT evaluation of the upper airway morphological changes in growing patients of class II division 1 malocclusion with mandibular retrusion using twin block appliance: a comparative research. PLoS One, 9, 0094378.
Jena, A.K., Singh, S.P., & Utreja, A.K. (2013). Effectiveness of twin-block and Mandibular Protraction Appliance-IV in the improvement of pharyngeal airway passage dimensions in Class II malocclusion subjects with a retrognathic mandible. Angle Orthod., 83, 728-34.
Ali, B., Shaikh, A., & Fida, M. (2015). Effect of Clark's twin-block appliance (CTB) and non-extraction fixed mechano-therapy on the pharyngeal dimensions of growing children. Dental Press J Orthod., 20, 82-8.
Vinoth, S.K., Thomas, A.V., & Nethravathy, R. (2013). Cephalomteric changes in airway dimensions with twin block therapy in growing Class II patients. J Pharm Bioallied Sci, 5(Suppl 1), 25-9.
Verma, G., Tandon, P., Nagar, A., Singh G,P., & Singh, A. (2012). Cephalometric evaluation of hyoid bone position and pharyngeal spaces following treatment with Twin block appliance. J Orthod Sci, 1, 77-82.
Elfeky, Hy., & Fayed, MMS. (2015). Threedimensional effects of twin block therapy on pharyngeal airway parameters in Class II malocclusion patients. J World Federation of Orthod., 4, 114-9.
Chand, K., Jacob, S., & Charles, A. (2017). Assessment of changes in the sagittal pharyngeal airway dimensions post twin block therapy using polar planimeter. J Res Dent Sci, 3, 51-7.
Zhang, C., He, H., & Ngan, P. (2013). Effects of twin-block appliance on obstructive sleep apnea in children: a preliminary study. Sleep Breath, 17, 1309-14.
O'Brien, K., Wright, J., Conboy, F., Sanjie, Y., Mandall, N., Chadwick, S., & et al. (2003). Effectiveness of early orthodontic treatment with the Twin-block appliance: A multicenter, randomized, controlled trial. Part 1: Dental and skeletal effects. Am J Orthod Dentofacial Orthop., 124, 234-43.
McNamara, J.A. (1984). Influence of respiratory pattern on craniofacial growth. Angle Orthod., 54, 283-311.
Freitas, M.R., Alcazar, NMPV., Janson, G., Freitas, KMS., & Henriques, JFC. (2006). Upper and lower pharyngeal airways in subjects with Class I and Class II malocclusions and different growth patterns. Am J Orthod Dentofacial Orthop., 130, 742-745.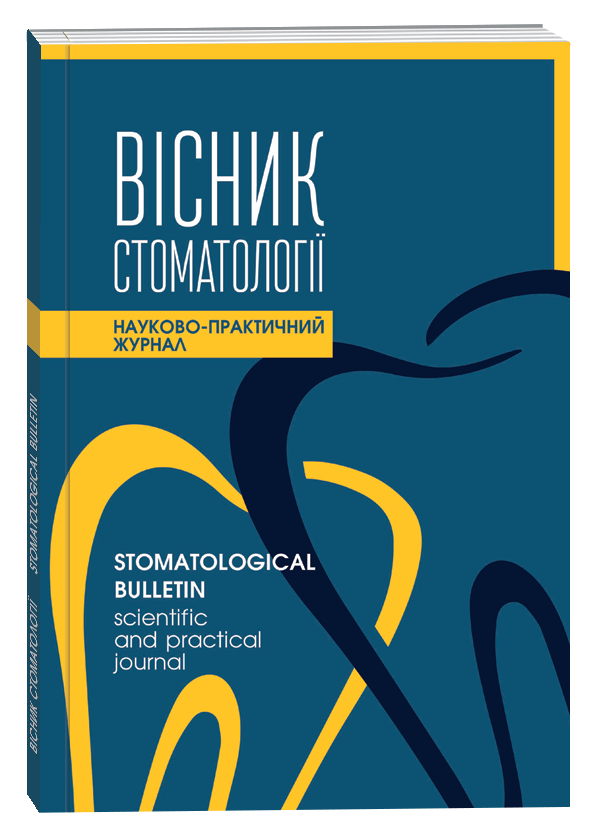 ##submission.downloads##
Як цитувати
Дрогомирецька, М., & Садек, А. С. М. (2023). ПОРІВНЯЛЬНИЙ ЦЕФАЛОМЕТРИЧНИЙ АНАЛІЗ РОЗМІРІВ ВЕРХНІХ ДИХАЛЬНИХ ШЛЯХІВ З ВИКОРИСТАННЯМ ЗДВОЄНИХ БЛОКІВ І МОДИФІКОВАНИХ ФУНКЦІОНАЛЬНИХ ПРИСТОСУВАНЬ У ПАЦІЄНТІВ З АНОМАЛІЯМИ ПРИКУСУ II КЛАСУ ЗІ ЗВУЖЕННЯМ ВЕРХНІХ ДИХАЛЬНИХ ШЛЯХІВ. Вісник стоматології, 123(2), 111–121. https://doi.org/10.35220/2078-8916-2023-48-2.21